9 Apps Like Audible: Free or Cheap Audiobook Apps to Try in 2023!
There was a time when it used to take hours to read a book, and nothing else could be done while reading. Now, audiobooks have made it very easy, you can listen to a book instead of reading.
I personally love audiobook apps, because I love book reading. However, I love reading a book instead of listening, but sometimes, when I get tired and want to listen to the texts of the book, I use Audiobook apps such as Audible.
Audible is a very popular audiobook app that has hundreds of thousands of books to listen to. The app is not totally free, you have to take its premium to access all its features. However, the platform provides a free trial of 30 days but after completing the trial days, you will be asked for payment.
Undoubtedly, the Audible app is one of the best audiobook apps, but it is not a single app in the universe.
You have such great options, there are many other apps that can make your book-listening experience amazing!
Let's see these apps, but before, do you really know what audiobook apps are, and what they do? No? Let's see!
What is an audiobook, and what does an audiobook app do?
According to Wikipedia, an Audiobook is a recording of a book or other work that can be read out loud. Reading a complete text called 'unabridged', while reading short forms called 'abridgements'.
The audiobook apps make this happen, they provide a lot of books that can be listened to instead of read. Using audiobook apps and websites, the audiobook can be downloaded as digital audio files in formats such as MP3, WMA (Windows Media Audio), or AAC (Advanced Audio Coding).
So, do you have an interest in listening to books? Undoubtedly yes! Because you are at this post, one more thing can be said clearly- you are looking for apps like Audible for free. No need to worry! 
You can get such apps easily, just go through the list of the apps like Audible, which is mentioned below, and also know their key feature to select one according to your need.
9 Amazing Apps Like Audible for Free- Make Your Audiobook Listening more Amazing!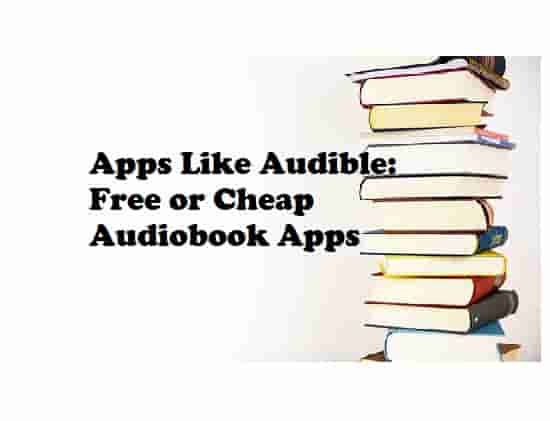 Here are free and cheap apps like Audible that you can check and know more about them to select one for your audiobook listening journey!
Librivox Audio Books 
Chirp
Libby
Hoopla
Spotify
Scribd
YouTube
AudiobooksNow
Audiobooks.com: Books & More
Also Read:

Cool Word Game Apps Like NYT Spelling Bee!

Apps Like Checkout 51!
Librivox
Are you thinking about apps like Audible, but free? Librivox could be one of the best options for you. 
Librivox has an ultimate collection of more than 40,000 classic audiobooks. 
With the basic features, the app has a collection by title, keywords, authors, and even the narrator that could easily be searched in the app.
Focal Points 
Focused on classic collection: if you love classics and looking for free audiobook apps, Librivox is a good choice for you!
Daily audiobook: in the app, you can get a new audiobook on a daily basis, which is good to hear.
Search feature: its search feature allows a user to search an audiobook by title, keyword, author, and even the narrator.
Android and iOS, both apps are available: no need to worry about it, you can easily download and install the Librivox app on your phone.
Bluetooth, Android Auto, and Google Cast support: the app supports these that make your listening easier.
Chirp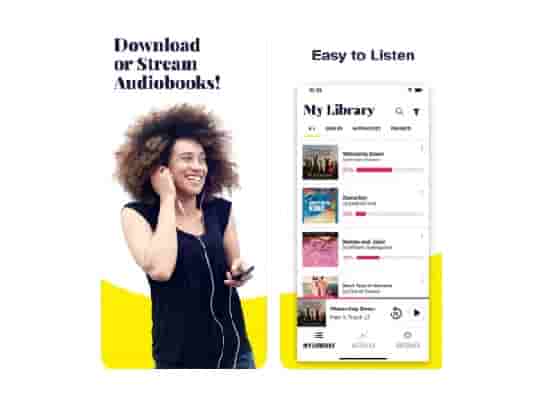 Chirp has a tagline that is- 'Audiobooks w/ no subscription.' This tagline explains that you can easily use the Chirp app without any monthly subscription.
The platform has amazing deals that could provide up to 95% off on audiobooks. So, it could be one of the cheapest audiobook apps as an alternative to Audible.
Focal Points 
No monthly fees: the app has no need for a monthly subscription, you can easily use the app without paying a monthly fee!
Huge discounts: you can get up to 95% off on audiobooks, which could be a very less price than others.
Daily new release: platform releases new deals daily, so you get an option to avail best deals on audiobooks.
Streaming and downloading both features are available.
Adjustable listening speed: you can adjust the speed of listening according to you; which is a good feature, if you want to listen fast or slow.
Offline listening: you can download audiobooks to listen to when you are not connected to the internet.
Easier to connect with any smart speaker via Bluetooth or Google Cast.
Libby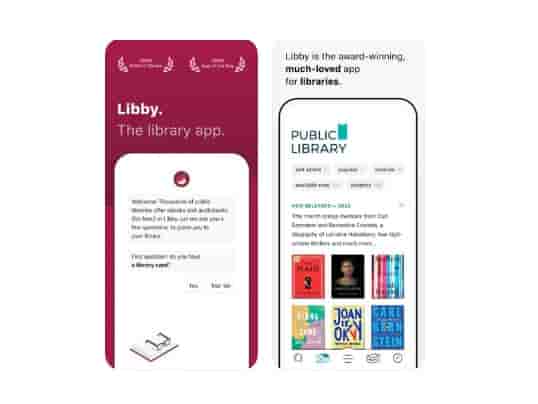 The Libby app connects your library by using your library cards so that you can easily get the library's digital collection of ebooks, audiobooks, and magazines.
In very simple words, Libby works as a digital library where you can borrow ebooks, audiobooks, and magazines just like the offline library.
So, Libby is not only for audiobooks, you get hundreds or thousands of ebooks and magazines.
Technically, Libby is free of cost (you pay the price for your library), so if you don't want to go to your library, Libby is a good alternative to Audible.
Focal Points 
Free to use: you don't need to pay any price to use Libby, you just have to pay taxes for your library.
You can only listen to the audiobooks that are available in your local library collection, this is a caveat from Libby. Besides this, one more caveat is from Libby that the audiobooks will be treated as other library items, you can borrow, hold and renew them as like the other library items.
You can set a sleep timer: you can choose to have the audiobook playing for 5 minutes, 10 minutes, 15 minutes, 30 minutes, 45 minutes, 1 hour, or until the end of the audiobook.
Like Chirp, you will get options to increase or decrease the playback speed.
Can skip the playback a few seconds forward or backward.
Can download audiobooks to listen offline: this feature helps to listen to your desired audiobooks even when you don't have an internet connection.
Hoopla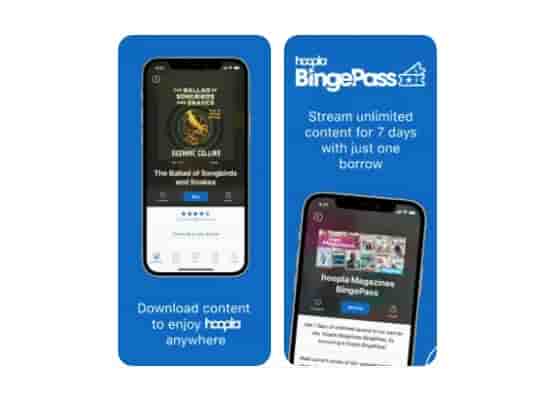 Like Libby, Hoopla is another app like Audible, but free (technically). It works the same as Libby. 
To use the Hoopla app, you have to connect your library cards to the app. 
So throughout the U.S., users can use the Hoopla app for free, but with a single condition, they have to connect their library cards to the app.
Focal Points 
Kids Mode: This mode helps you to show content that is good for your family or kids. 
Hoopla BingePass: this will give you access to unlimited streaming of popular content for 7 days with only a single borrower.
Thousands of new titles: The Hoopla app adds thousands of new titles every month that will let you make your audiobook listening more interesting.
Offline listening, streaming, and watching are available: downloading feature will let you do this.
Sleep timer, car & activity mode, speed option, and bookmarking are the other good features.
Spotify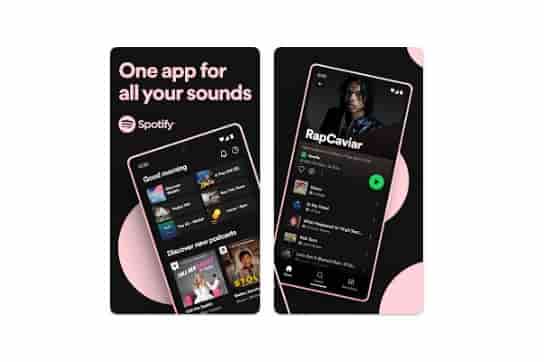 Yes, you heard right! Using the Spotify app, you can listen to audiobooks for free but during the streaming, you will experience ads. 
Spotify comes with its free version, but it is ad-supported, which means you have to watch ads while you stream something. 
With Spotify premium, you will not experience any ads during the streaming. So, if you already have a subscription to Spotify, no need to take any subscription for audiobook apps like Audible. But, Spotify has some limitations- first, its free version has ads, and second, you will get limited audiobooks on Spotify. 
Unlike Libby, Chirp, Hoopla, or Librivox, Spotify has a limited collection of audiobooks. 
Focal Points 
Free to use: you can use the Spotify app free of cost by watching the ads. 
Finding audiobooks on the app is a bit challenging, there is no dedicated section for audiobooks.
Doing some research would be more worthwhile than paying for audiobooks that could be available for free.
Scribd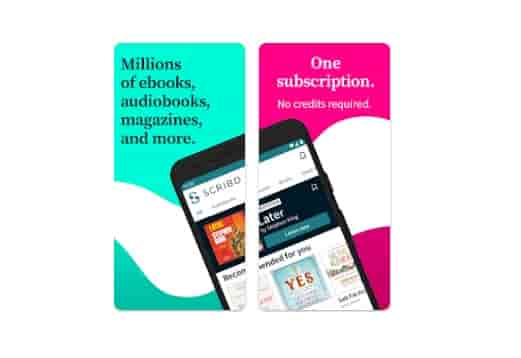 Scribd is not free for always, but you can use its 30 days free trial, which is absolutely free of cost.
During this time, you will get full access to their entire library like a paid membership. Once your free trial ends, you will have to pay to continue the services. However, you can cancel your subscription anytime.
Focal Points
Ad-free Experience: you will not experience any ads during the streaming even if you have signed up only for a 30-day free trial.
Synced across multiple devices: you can easily sync Scribd to your device, this feature is free with the subscription.
Sleep timer, backward or forward, offline listening, and more features.
YouTube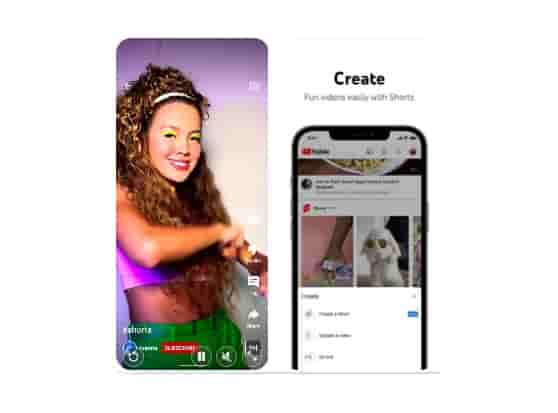 Yes, it is right, YouTube has hundreds of thousands of audiobooks for free. The audiobooks will be in video files, but yes, if you are looking for apps like Audible for free, YouTube could be one of your choices. 
Manage your streaming speed feature is available on YouTube, so this is not much different from a dedicated audiobook app.
Focal Points 
Although YouTube could be a good selection among free audiobook apps like Audible, this has some limitations. 
First, its free version contains ads that could be irritating sometimes.
Second, include audiobooks in the public domain, so don't expect so many recent audiobooks. 
Limited selection: since YouTube has audiobooks in the public domain, it has limitations in the selection. 
Can't hear when your phone is locked: unless you subscribe to YouTube premium, you can't hear or stream anything while your phone is locked. 
AudiobooksNow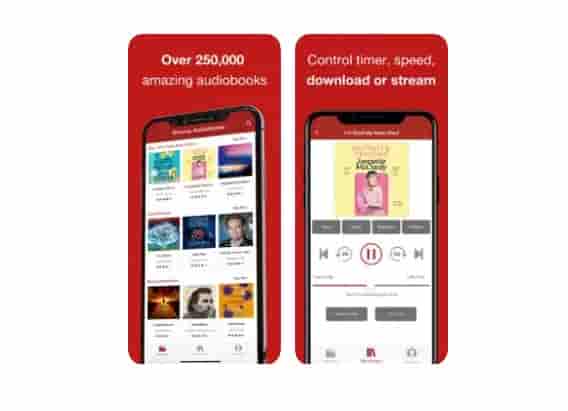 In this app, you will get both free and premium options for audiobooks. The app contains hundreds of thousands of free audiobooks, so yes, you can consider it one of the best free apps like Audible.
Focal Points 
Club membership: in it, you can take a membership to get offers on the audiobook's prices. It includes 30 days of free trial that could be canceled anytime without any commitment.
You can keep your library forever, even if you cancel your club membership.
Hundreds and thousands of free audiobooks, and to get more or new audiobooks, there is still a premium option.
Like all the other audiobook apps, sleep timer, speed adjustment, bookmarking, and syncing is available.
Audiobooks.com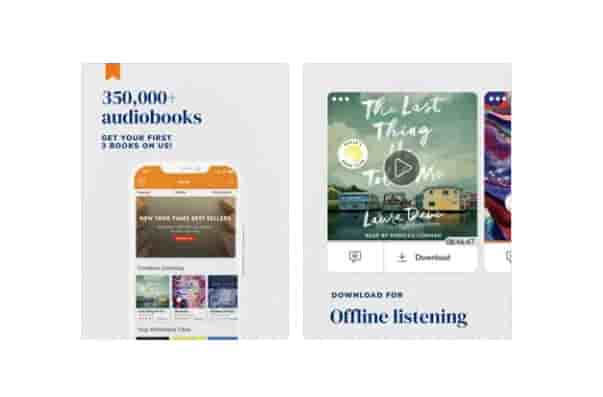 Like AudiobooksNow, the Audiobooks.com app also has both options- free and premium.
It has thousands of free audiobooks, so you don't need to get its premium membership until you don't want to go with it, or the book that you want is not available for free.
Free audiobooks of all genres- sleep, drama, comedy, biography, business, history, kids, etc.
Focal Points
Daily audio news: in this app, you can get daily news from popular sources such as The New York Times, NPR, Fox News, The Wall Street Journal, ABC, CBS, CNN, The Washington Post, The Economist, Bloomberg, and many others. 
Offline listening, like other audiobook apps.
Sleep timer, speed adjustment, bookmarking, and syncing to your devices.
Free and paid options are available.
Final Words…
In this blog post, you have got 9 free or very cheap Audible alternatives! 
I think now your journey is completed! 
But is it worth switching from Audible to any of these apps? Well, it will depend. If you are a classic or older book lover, you can go with any of the mentioned apps. 
But, if you live reading the new launches, be with Audible as it has a huge collection of instantly available audiobooks.