Apps Like Lyft and Uber (Cheapest Taxi Apps for Americans 2023!)
Daily commuting is a big challenge for everyone, especially when you take taxis. Selection of a safe ride with a lower cost is always a big challenge. 
If you live in the most populated US cities like New York, Los Angeles, Chicago, Houston, etc- you would know how selecting a safe and budget ride could be tough.
I personally faced a problem when I had to come from my office. I usually use my personal vehicle but that day, I didn't have my car. So of course, there was no other option than taking a taxi! I decided to go with Lyft, undoubtedly it is an excellent taxi app, but I saw a price hike as the time was the peak, it was the end of the office time.
That day, I was in a hurry, so I didn't care about the price and booked a Lyft Taxi. 
But again one day, I faced the same issue, this time, raining!  Again saw a price hike! 
This time I decided to go with an alternative to Lyft. I searched and found some other apps like Lyft that were doing the same job but with cutting prices. 
So if you are looking for apps like Lyft, this blog post is going to inform you about 7 such apps that you can use to book your taxi.
What is the Lyft App? How does it work?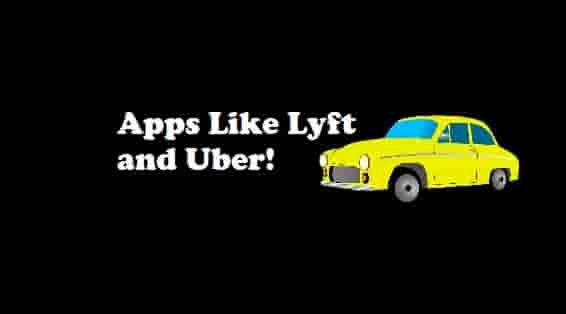 Lyft is a taxi app that has grown amazingly throughout the US with expansion in 600 cities. People daily use this app to book their rides and the company provides excellent benefits to both the rider and the driver. 
Just tap on the request and the app will connect you to a driver nearby you, time of arrival will appear, wait for that time and enjoy your ride once the taxi comes to your place.
Despite such a huge expansion and excellent benefits, Lyft has some issues. You could usually see raised prices during peak times or bad weather. 
So do you have any other option? 
Yes! You do have! 
There are several apps that do a similar job as the one that Lyft does.
Let's move forward and see these apps and their key points for better understanding.
Uber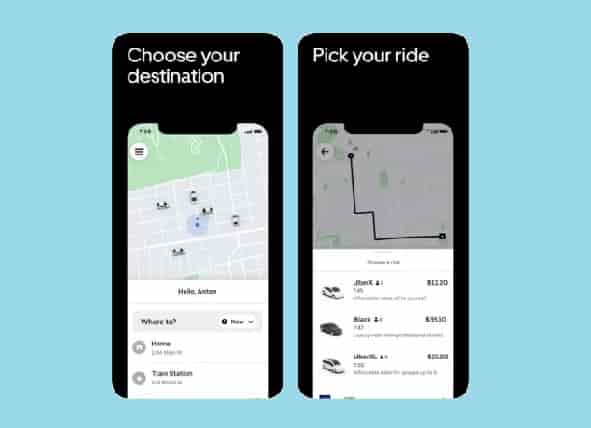 As the best Lyft alternative, you can go with Uber. It is a trusted brand that operates in not only the USA but in many countries. 
The company provides offers and cashback from time to time for the rider and the customer both.
The company has established a door to door safety standards that will make you feel safe whenever you book a ride from Uber.
I personally installed this app and have been using it for years. Besides this, I put some other rideshare apps, to check offers and availability at the time of booking. 
Focal Points 
The app is available on the Play Store and Apple App Store, so you can easily install it if you have either an Android or iOS phone.  
Huge coverage including 10000 cities across the globe.
Can get elegance and premium features with Uber Exec.
Just enter your destination and enjoy a safe ride.
You can estimate the time and fare, and also can see the right map of your destination: right just in the app.
Wingz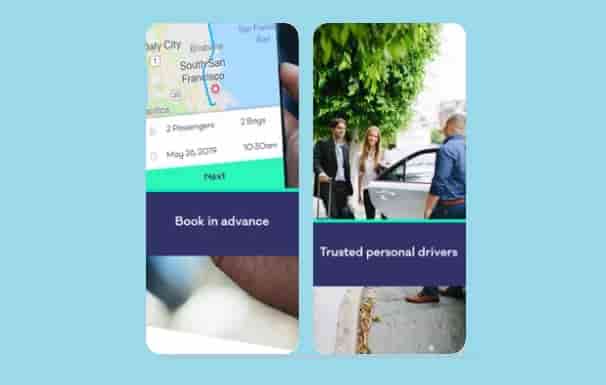 You can hire a vehicle from the company using its website or mobile apps. The company is also known as Tickengo. Its services cover 30 major cities in the United States with a focus on airports. Other than this, the Wingz app connects approx 21 airports and more than 15 metro areas, having a fixed price. 
Wingz is one of the best apps like Lyft and Uber, having an inflexible fare and huge coverage. 
Focal Points 
You can request a specific driver for your rides and can create a list of drivers for your future bookings.
Advance booking feature is available in Wingz: you can book your ride from two hours to up to one year in advance.
Users can input their flight details so that the driver can be updated about the status of arrival or departure.
Users can ask for amenities like chargers, car seats, etc. To this, users get a special request section.
No fluctuations in the prices, you have to pay only a set fare for your rides.
You can rate your driver and compensate him with a gratuity, after the completion of the ride. Drivers would have to maintain a high rating, if it doesn't, the driver will be removed from the Wingz.
As liability insurance, Wingz provides $1 million or $1.5 million (depending on the market) to its riders and passengers. 
Curb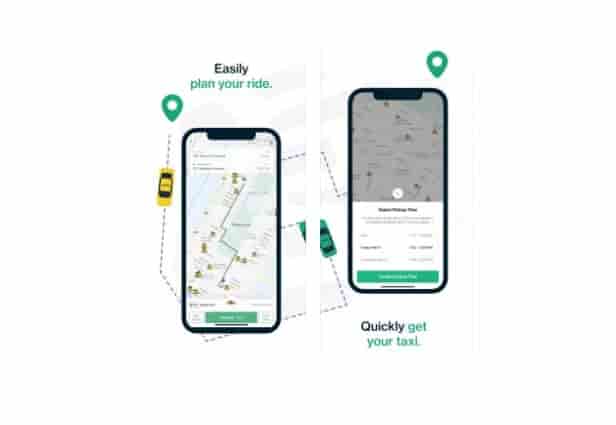 Curb is another very popular company like Lyft and Uber. It also has a huge range of services that operates in almost 60 cities in the United States and partnered with over 90 taxicabs companies to expand its services.
The company is expanding its network aggressively- soon they are aiming to cover more cities throughout the U.S.
The platform works same as the Uber and Lyft do, fundamentally: hire a rider to go to your destination point.
Focal Points
Upfront Pricing: with this feature, you have to pay the price that you see, no need to worry about price fluctuations.
The price you see includes all the toll prices, you don't need to pay extra money for the toll.
Easily available in major and highly traffic cities like New York City, Boston, Philadelphia, Chicago, Los Angeles, San Francisco, Las Vegas, Miami, and Washington, DC. 
You can schedule a taxi in advance, before 24 hours, no need to hurry, just book according to your timing, and the rider will wait for you, not you!
Earn credits by sharing your referral code, you can use these credits when you book your ride using the Curb.
Flywheel- The Taxi App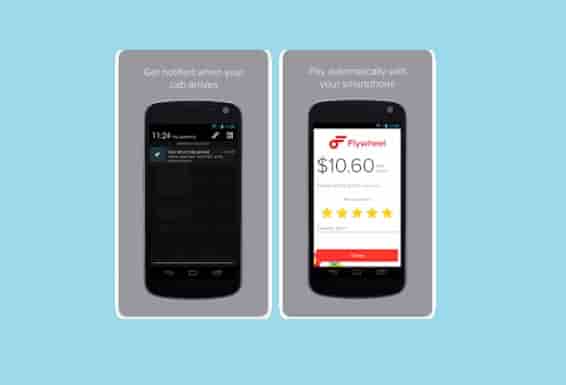 Like Curb and Wingz, Flywheel is an app like Lyft and Uber, that operates in the United States.  The app covers the San Francisco Bay Area, Seattle, Sacramento, and San Diego. 
If you are from these areas and looking for apps like Lyft and Uber, you can go with it, undoubtedly.
Focal Points 
Unlike Lyft, the fare never fluctuates due to high demand or traffic. 
All the drivers are licensed and professionally trained to make your ride safer and more secure.
Has a real office to contact whenever you feel any issues with their services.
Track your cab: know exactly when it will get to you by following the map and the estimated arrival time, call your driver directly to know what is the exact location of your cab.
Gett- The Taxi App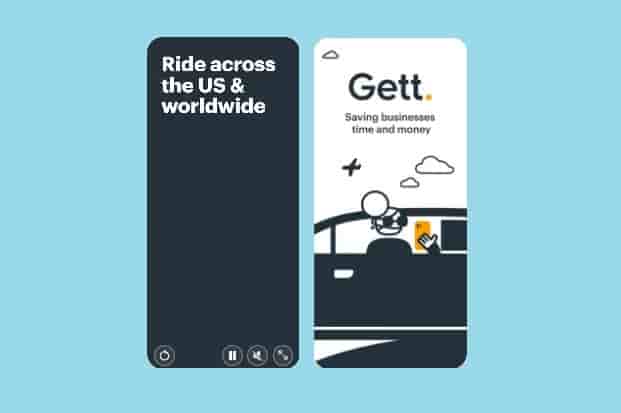 Gett or GetTaxi operates in more than 100 cities, globally. Gett was previously known as GetTaxi, and still, on some taxis, you can see the name 'GetTaxi'. 
The company not only operates in the U.S. but also has a tremendous grip in the U.K. and Israel.
In one of the highly-traffic cities of New York, you can easily get Gett for your ride.
Focal Points
Never see a hike in the fare during peak time: like Flywheel, the price for your booking never fluctuates. 
Pre-booking features make it time savvy: book your ride before time, and save your time.  
Trained driver: drivers will be trained so that your safety could be on priority.
EasyTaxi, a Cabify App, or Just Cabify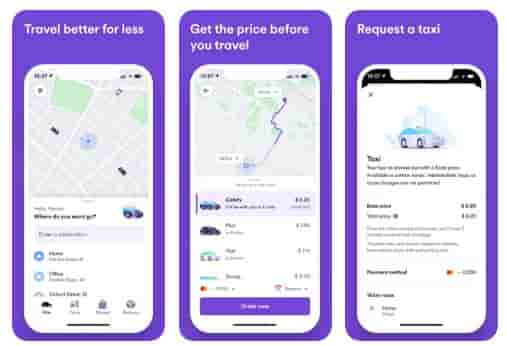 EasyTaxi was occupied by Cabify previously, and now, Cabify has many features and better expansion.
You can get an estimation of the fare for your ride whereas sometimes, a taximeter could be applied.
The platform or the Cabify app always finds the best and shortest route rather than providing a typical route.
Focal Points
EasyTaxi or Cabify's cabs are available in more than 90 cities across Latin America and Europe. 
Besides these locations, Cabify is available in Argentina, Brazil, Chile, Colombia, Ecuador, Mexico, Peru, Spain, and Uruguay.
Cabify has many services such as Cabify Lite, Easy Taxi, Cabify Executive, Easy Economy, MOVO, and Cabify Pets.
In the MOVO option, you can book scooters into the app.
You can use GPS monitoring for your cab and driver.
Via- Smarter Mobility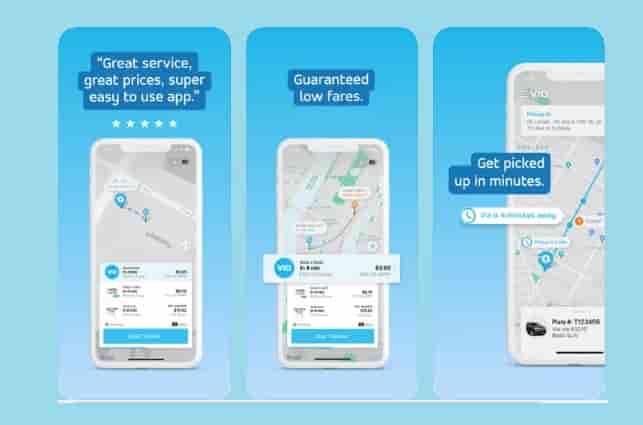 If you are asked to point out some best rideshare apps, you can include Via as one of the best. Via has its set routes and once the passenger sets his destination, the app tries to drop the passenger at the nearest drop location.
A shared inverinomemt makes Via cheaper than any rideshare app. To make Via a fruitful app or platform, it operates 24 hours a day, seven days a week.
Focal Points
Multiple passenger pickup facilities: easy to share your ride with your colleagues and friends who are headed to the same route as you.
Lower the price: sharing from multiple persons makes the price affordable and low.
Via app is avail for Android and iOS phones. 
Conclusion
The thought of moving on to another platform while you are using one usually bubbles up when you are not satisfied with the app that you have already.
Well, if you are looking for the apps like Lyft and Uber, this blog post has a list of apps that provides the same services in any manner.
So, you can consider these apps as the best and cheapest alternatives to Lyft, and these are:
Uber
Wingz
Curb
Flywheel- The Taxi App
Gett- The Taxi App
EasyTaxi, a Cabify App, or Just Cabify
Via- Smarter Mobility
You can choose one according to your need and the situation. 
Read Also:

How to Check Whether an iPhone is Real or Fake?

Apps Like Hoop to Make New Snapchat Friends.