An iPhone is Fake or Genuine: Here's How To Check in 2023?
Are you planning to buy an iPhone 14 or another version of the iPhone? Right, but do you know there is much fraud in the market🤔? So in this situation, a question should trigger in your mind; what should I do then, right? Well, I don't have iPhone 14, but Yes I have iPhone 12; that I bought in starting of 2021 (middle of January). Recently, a person; when I was walking on the road nearby my home, asked me to buy iPhone 14. 
Yes, the phone was looking very real but, I had doubts; I was confused between fake and genuine. I was pretty confused about what to decide. 
I asked for the price first. The person was selling that phone for just $500. 
That's the thing that threw me more suspicion. I thought- the deal is not bad but, what about the originality; is the phone real or fake, this was still in my mind.
So, I started searching online for "How to Check if my iPhone is real or it is fake?", believe me, I found some ways, but unfortunately, not all were much satisfactory as I was thinking. 
Wait! I am not done yet👀.
I kept searching "knowledge land" and found some more ways that were telling the steps to find out if an iPhone is real or fake.
Do you know?
I spent hours on this to gather proper information, so I decided to put that information in a single place so that no other people waste their precious time.
Get happy now!😊
If you are on this page; you will get that information, and I hope you would understand how to keep away from a fake iPhone or if you have decided to buy one; how to check if it is genuine or not.
How to Keep Away Yourself From a Fraud or Fake iPhone?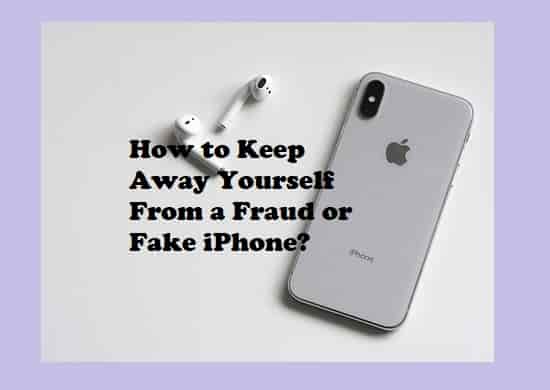 The best way to avoid a fake iPhone is to purchase it from a registered Apple Store. There are even many trusted digital stores that can provide you with a real iPhone. 
These were the things that you should do, let's see-
What not to do?
Never buy an iPhone from n unknown person on a walking road.
Don't buy the phone without a bill from Apple; it could be stolen.
Recommendation: If you want to keep away from a fake iPhone, always try to purchase it from the registered stores with Apple's bill.
There is no issue with buying a new iPhone, it is quite simple; visit the Apple store and buy it. The problem is with an old iPhone. 
Do not worry; if you have decided to buy an old iPhone, I will tell you the ways that will verify whether it is fake or genuine.
How to Check Whether an iPhone is Real or Fake?
Before meeting up with that guy, I was unaware of such fraud. By the way, this was good; I learned much about the real/fake or refurbished or repaired iPhone✌. 
Let's start with one-by-one steps to measure whether your iPhone is real or fake.
Check IMEI Number
Do you know if all the original phones have their IMEI number? Yes, if a phone is original, it must have an IMEI number. 
So, if you have any doubts or want to ensure that your iPhone is real or fake; just check the IMEI number of your phone. If it has an IMEI number, it is real otherwise, much of a chance that you have gotten a fake phone. To check the IMEI number, go to Settings >> click on General >> Tap on About, and then, scroll down and see the number. 
This is not a single method there are others too; let's see them also.
Check The Operating System of Your Phone
An iPhone runs on the iOS operating system, and it could be a measuring step to check whether the phone that you have is real or not. Go to the Settings menu and then tap on the software tab to check the operating system that your iPhone is running on. An iOS-powered iPhone comes with lots of native apps such as Safari, Health, and iMovie, among many others.
Check the Model Number 
The model number and the serial number of your phone are another measuring way. The first letter of the model number represents the type of your phone.
If the first letter is "M"; your device is brand new and 100% original.   
Check Serial Number and Verify Your Purchase On Apple's Official Website
This method is my favorite; easily get the serial number of your phone and the best part is, Apple officially helps to validate your purchase.
To see the serial number; go to Settings >> Tap on General >> and go to About, here you will see the serial number of your iPhone. Just copy the serial number and go to Apple's official link- https://checkcoverage.apple.com/. Paste or type manually your serial number and if a Green Tick ✔ appears, your device is a valid product from Apple.
Check Physical Appearance
Physical appearance could be copied, but yet, it could be another way to check whether your iPhone is real or fake.
As a physical appearance, mainly see the logo, notch, frames, and camera module very carefully. A fake iPhone could have missed something. 
How to Check if an iPhone is repaired or Refurbished?
This could be a concern for many people. They get quite confused that if the phone is refurbished/repaired or serviced before. The way to check it is very quite simple, let's see.
To check if your iPhone is repaired or refurbished; just find the model number of your phone and if it is starting with the letter "F", this means your device is refurbished. To find the model number of your phone; go to Settings, and then, tap on about, here you can easily see the model number and the serial number of your phone.
Final Words…
I checked my iPhone using the serial number and Apple's official page. It was quite simple for me to verify that my Phone is real; Hahaha. 
This is very important to verify if you are going to purchase a real or fake iPhone, so I hope, this information was helpful to you.
Don't forget to share it with your colleagues/friends or family members.
You would love to Read
How to Update An App on your Android, iPhone, or iPad?
What to do if Apps Not Updating on your iPhone?