Hisense TV Sound Settings for the Best Experience [2023]
A good TV sound setting will make our watching experience unforgettable!
This blog will tell you some very simple sound settings for your Hisense TV to get the best sound experience. I have done these settings for my friend. He has had Hisense TV for years and whenever he needs some tips or faces an issue with his TV, he prefers to talk to me first! 
I have helped him a lot with his TV, once his Hisense TV was flashing red light twice and he was troubled with this issue for a few days, I helped him to deal with this. However, this had taken a few hours, but lastly, the problem wasn't there.
Audio plays a very important role to experience a video/music/movie on your TV. Surely, you get default settings on your TV, but do you know, you can adjust those settings according to your choice? 
In this blog, I will provide you with some best audio settings for your Hisense TV that will possibly make your sound experience more handsome. 
Best Audio/Sound Settings to try on your Hisense TV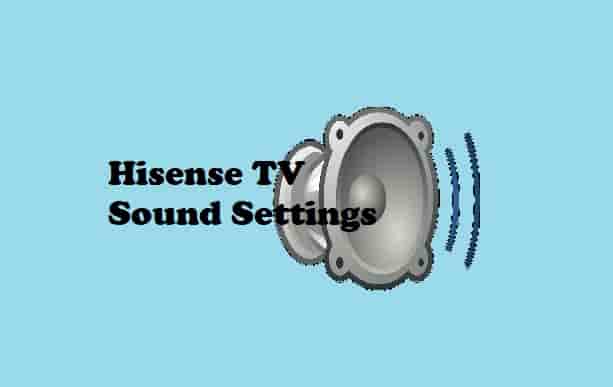 To get the best sound effects and experience, there are plenty of settings that you can do. So, the overall sound quality does not depend upon a single factor but is a combination of various settings. 
So let's make your TV sound more effective: let's see the possible settings.
Selection of Mode of Sound
Your Hisense TV has many modes of sound: Standard, Theatre, Music, Speech, Last Night, and Sports. You can select accordingly, such as if you are willing to listen to music on your TV, you can select 'Music'. 
Standard mode is one of the most selected modes that generally people select. Let's see what other modes do:
Theatre mode: This mode produces a handsome sound effect when you want to watch movies just like in theaters. 
Music Mode: To hear or experience music handsomely, you can select this mode.
Speech: This mode makes the listening speech experience more pleasant. 
Last Night: This is for the night, it is not compulsory to select this mode while you are watching your TV at night, it totally depends on you.
Sports Mode: To make your sports watching more effective, you can try this mode. In this mode, you can hear the noise of the stadium or audience which is the life of any sport.
After selecting 'Mode', let's see the next setting that you can do.
Sound Settings
Sound settings help to control the loudness of the audio you get from your TV whenever you play music, movies, sports, etc. 
So, to get the best sound loudness, I would recommend keeping it 'Balanced'. If you overpower it, it will mess up things and the audio quality you want to get won't come.
However, if you want to hear things out loud, you can boost the lateness; it's up to you!
Output Settings 
To get the best audio experience, you should select the output settings: eARC. 
Some Hisense TVs come with eARC while some, with ARC output. Some Hisense TVs come with Dolby Atmos. But the best quality, you would get in eARC, so if this is in your TV, select it.
So accordingly:
Go to Settings > Sound > Audio Output > ARC. 
Settings > Sound > eARC (Only for devices that support eARC via HDMI-eARC).
Settings > Sound > Dolby Atmos > On.
If eARC is not available on your TV, select ARC.
Equalizer Settings 
This setting plays a very important role when it comes to getting the best audio settings for your Hisense TV. 
This setting should not have any recommendations as it should totally depend upon your liking. 
If you love balanced audio, you can set from here and if you love Bass, tinker here and there, and yup, it's done! 
So, it's a lovely setting that should be performed according to your choice of sound. 
Surrounding Sounds 
Surround setup is one of the best ways to experience amazing audio. Hisense TV supports several speakers, and most of the Hisense TVs are compatible with these sound options.
So, if you have a surround sound set up, I would recommend connecting it to your TV so that you can enjoy the best sound.
Reset Audio Settings 
Have messed up with the settings, don't worry, resetting is always in your pocket! 
Sometimes, you can tamper with settings during customization. You are not alone, even I did this when I was setting up the sound for my friend. 
But, I reset all settings, and again it was on by default. So, if you have also done any wrong settings, you can reset it, here are the steps:
On your TV remote, press the 'Home' button (Make sure your TV is turned ON), and go to 'Settings'.
Next, in 'Settings', go to 'Device Preferences'. 
Move down by using the arrow buttons on your remote and select the 'Sound' option.
Now at the bottom, find the option 'Reset to Default' and press the 'OK' button. 
A popup message 'Do you want to reset all?' will appear. Select 'Yes' and press the 'OK' button.
Wait for a second, all done, your audio settings are reset to the default.
You Would Love to Read
Does Hisense TV have a headphone jack? 
'Yes' Hisense TV has a headphone jack. Also, you can connect your wireless headphones to your TV as it has built-in Bluetooth.
Where is the headphone jack on my TV? 
On the back or side of your TV, there would be a headphone jack. Sometimes, wherever your inputs are, there could be some form of audio output connection.
Where is the audio output on a Hisense TV?
To find audio output on your Hisense TV, go to Settings > Sound > Audio Output > ARC.
Bottom Lines…
A good sound or audio provides a good environment for to listening music/songs or watching movies/videos. So, it is very important to adjust your device's audio settings according to your need. 
I dearly hope that this post has helped you to customize your Hisense TV sound settings to get the best experience. 
Before changing settings, I would suggest reading the manual to learn the basics. The official manual provides you with the basic premise to tinker with the settings. So, read the manual before setting up your audio settings.
Share this blog if this helped!
Disclaimer- All the content on this page is only for information purposes and has been provided in good faith. There is no representation or warranty of any kind, express or implied, regarding the accuracy, adequacy, validity, reliability, availability, or completeness of any information.