Ticketmaster Error Code U201 (Causes & Solutions!)
Ticketmaster error code U201- did you face this error code recently? I have seen on various online platforms that various users are facing or have faced this error ever. 
Undoubtedly, Ticketmaster is a great online ticketing platform for events, concerts, sports, theaters, etc., near you. Along with this, the platform has many errors that prevent users from booking tickets for their favorite or destined events, sports, etc.; error code u201 is just one of them!
I searched for this error code online to know what this error code means and why this appears. Alongside this, I was also looking for a solution to this error code. 
Luckily, I have enough information that can easily solve this error code, but first, let's see what error U201 is on Ticketmaster and what it says. 
Ticketmaster Error Code U201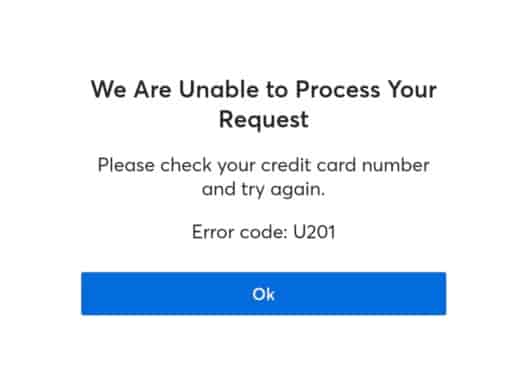 The error code says "We Are Unable To Process Your Request. Please check your credit card number and try again. Error Code: U201." The error itself clearly mentioned that the platform is refusing your request because it has found some incorrect payment information. So as a quick solution, recheck your payment information and try again!
However, some users found that they had correctly entered their payment information, yet, they were victims of this error.
So, one thing needs to be clarified: is the error really a payment issue or there is anything else?
I personally got this error when I also was putting all my information correctly, and this wasn't the first time, I used the same payment details before for successful purchases on Ticketmaster, and made many successful purchases also!
So why this time, I was getting this error? This question made me crazy, and I decided to dig into the problem. 
Digging deeper provided me with some possible causes for getting the error u201, let's see them that will help you to resolve the error.
The Causes!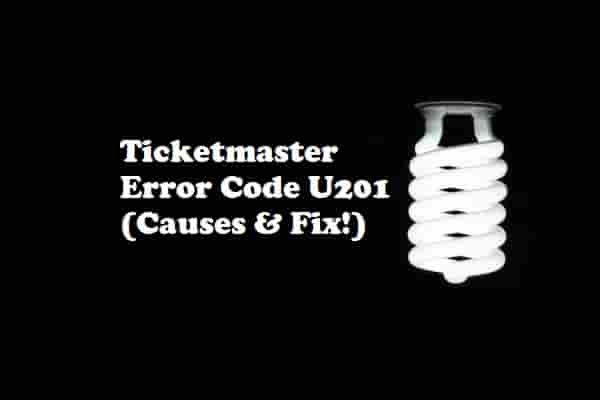 As the error message only says that the error is appearing due to a wrong payment detail or information, but it is not limited to this, the error could appear due to several reasons! They could be an unstable internet connection, corrupted cache & cookies data, and most probably a server outage.
Let's dive in deeper!
Payment Method 
To verify whether it's really an issue due to your payment details or not, you should cross-check the details that you have put out. 
If you have any other option, go with that and use another payment method or opinion. See if changing the credit card fixes the error or not. If the error was due to your credit card, it would resolve after using another card.
Sometimes to buy your tickets, you need a specific card such as Citi Cardmember presales, or American Express Preferred Seating. So, ensure that you have selected a valid payment method to buy your tickets!
To know more about Ticketmaster's payment method, visit this link.
Note- Changing and using a different credit card solved this error code for me. However, for many users, it didn't work. In that case, you can go for the next! 
The Internet
We all need the internet when we make a booking on Ticketmaster. Sometimes, we don't notice but our internet connection could be unstable. 
An unstable internet could create a disconnection between the Ticketmaster and its server. So yes, if you have an unstable internet connection, it could be the reason! 
So, if you face the error code U201, check the internet connection to ensure that it is steady or not. 
You can disconnect and reconnect with your internet or you can perform a reset of your internet connection by resetting your router. Just press the power button on your router and turn it off, after waiting for a few seconds, turn it again by pressing the same button.
Anyhow, your internet should be steady and good! 
Ticketmaster's Server
If the above two factors are not affecting your purchases on Ticketmaster then, it could be Ticketmaster itself. The server might face some issues, either it could be an extra load due to huge traffic or it could be a technical failure! 
For some events or Concerts, a huge number of people can start booking their tickets. In that case, Ticketmaster experiences a huge gathering, due to which, the server may face extra load. Sometimes, this could result in an error such as U201 or others.
So be sure by checking the Ticketmaster's server status whether it is facing any kind of issues or not.
There are several online tools that can tell you if Ticketmaster is undergoing any server issues or not. Downdetector is one such tool, you can visit this page to see the real-time problem with the Ticketmaster's server. Alternatively, you can head on to other online tools too! 
Cache & Cookies Data
We generally use browsers or apps on our devices! Browsers and apps both use cache & cookies data, and sometimes, these could be corrupted. Corrupted data may create problems and could result in an error such as U201 or others. So clearing the cache & cookies data might help to eliminate the error. 
If you use Chrome browser;
Open it and click on the three dots.
Click on History, a new tab should open.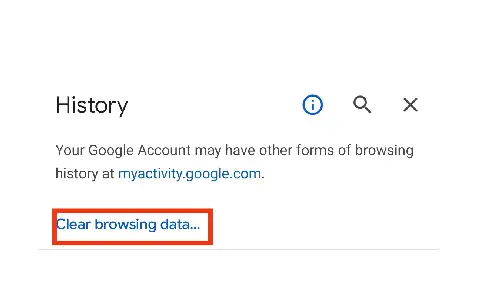 Now, click on Clear browsing data…
Under Advanced, select All Time and tick the boxes next to the Browsing history, Cookies and site data, Cached images, files, and Site settings.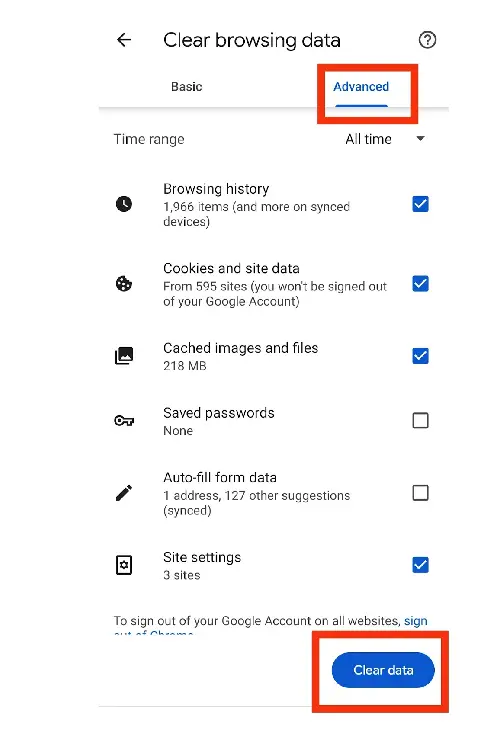 Finally, click on Clear Data.
If you are using the Ticketmaster app to book your tickets;
On Android Phones: Go to the Settings app, then tap on the apps and then Manage apps, search for Ticketmaster and then, clear the app cache and data.
On iPhone: Go to the General and tap on it, tap on iPhone storage and search for the Ticketmaster app and tap on it, next, tap on Offload app and tap again to confirm. Wait to complete the process and tap on reinstall.
After clearing the cache, relaunch the app, and try to book tickets. I hope, there wouldn't be any issues! 
How to fix Ticketmaster Error Code U201?
The error code U201 may arise due to the wrong payment method or information, a corrupted cache, a server outage or system failure, or a poor and unstable internet connection! 
To fix this error code, check your internet, clear the cache (browser & app), check your payment details or use a different credit card, and check the server status of Ticketmaster.
Conclusion 
Hopefully, you have resolved the error code U201! The error is very common and the platform says that it arises due to a wrong payment method or information provided by you.
Luckily, this error is easy to solve, you just try the ways that are mentioned above in this blog post. 
Thanks and don't forget to share this content! 
Disclaimer- All the content on this page is only for information purposes and has been provided in good faith. There is no representation or warranty of any kind, express or implied, regarding the accuracy, adequacy, validity, reliability, availability, or completeness of any information.