7 Free Note-Taking Apps For Students in 2023 (With Key Features!)
I think I'm not alone but almost everyone uses a note-taking app, not all, but almost! 
In this blog post, I'm going to put some best apps like Notability, basically the free note-taking apps for students. 
These apps are not only helpful to students but anyone can use them to take notes. So, undoubtedly, the post is going to be very informative!
Since notes are very important for a student, these apps will help them a lot more than others. But as I said, anyone can use them, there are no boundaries! 
There are several note-taking apps for students to choose from! But, some of them are better for saving notes while some are better for backing up them and syncing them on your computer, phones, and tablets. 
Overall, you would have a lot of confusion selecting a note-taking app for you! But, no need to worry! After finishing this blog post, you will be able to go with one. So let's complete your journey! 
Free Note-Taking Apps For Students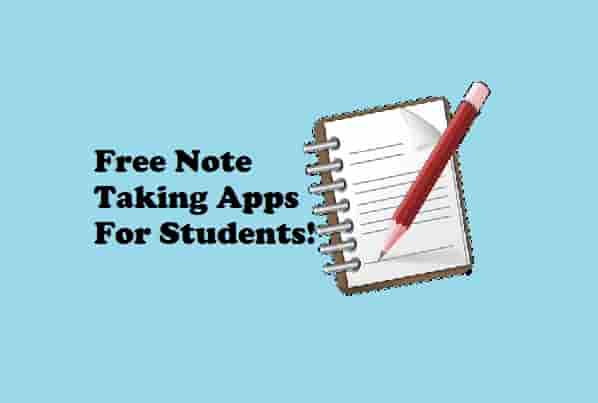 Let's explore these apps and know more about them, but first, let's see the list:
Google Keep.
Zoho Notebook.
MultiNotes- Reminder Notes.
Microsoft Onenote.
Notion- notes, docs, tasks.
Evernote.
Apple Notes.
Remember- Don't forget to check the key features of all the apps!
My son has used many of these apps, and he is still using some! In fact, I myself used some of these apps and still love to have some. 
So, let's give a chance to you to recognize one for you. 
If I missed any note-taking apps, please contact me and tell me about them!
Google Keep – notes and lists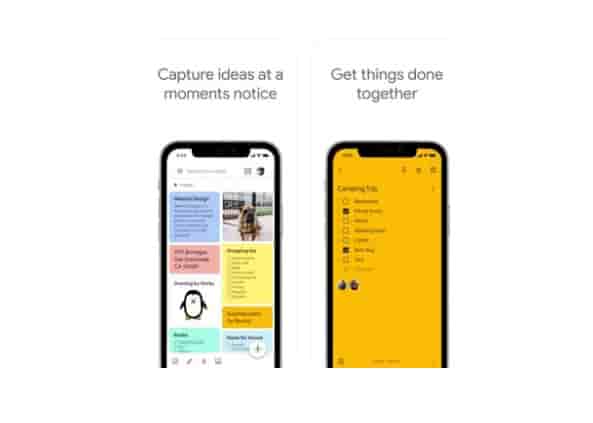 Google Keep is one of the best free note-taking apps, and surely, not only students but anyone can use it. 
Not only phones, but you can get this app for your PCs too. It is available for Android, iOS, macOS, web, and Windows! 
So, whatever device you have, you can use this application to save your notes or take backups. 
Key Features
Available as an extension (Chrome browser): Using this, you can easily save URLs, text, and images.
Compatible with other Google tools: In Gmail, Google Calendar, or Google Drive, or in a file in Google Docs, Sheets, or Slides, you can use Google Keep to view your existing notes or create a new one. 
You can record a voice memo on the go and transcribe it so that you can easily find it whenever you need it.
You can sync it with your Google drive. Whenever you create lists and notes inside Keep, the app saves them to Drive. This way you always have a copy of your notes in a safe place. 
Reminders for your notes: when you create notes in Google Keep, an option to add reminders will be available, if you add reminders, Google Keep will remind you so that you have up-to-date information about your schedule.
Coloring your notes: this feature helps you to color the important part of your notes so that you can keep your eyes on them and differentiate between the type of notes.
Notebook – Notes, To-do, Journal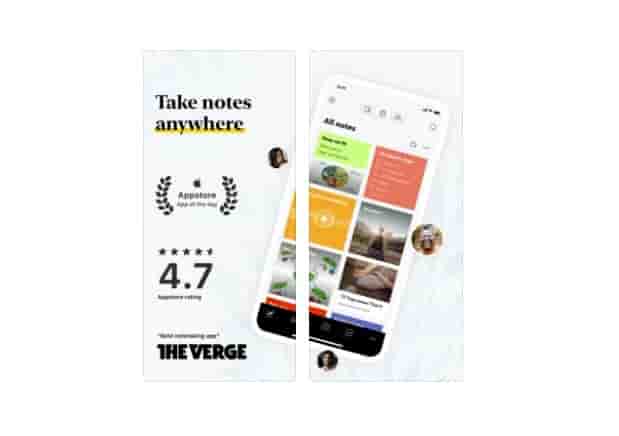 This app is developed by Zoho corporation and is also called the Zoho Notebook app. The Zoho Notebook app is easily available for Android, iOS, Mac, Windows, and Linux. 
This app could also be considered one of the best free note-taking apps for students! 
Like Google Keep, it also has many features that students should love to have! 
Key Features
Record the entire lecture using the audio card: as a student, this feature helps more when you want to listen to lectures for your revisions. 
Scan documents: Using this, you can scan a single chapter of a book or many chapters and add them to the notes so that you can easily access them whenever you want!
Different ways to take notes: In this app, you will get several ways to create notes. You can write notes, add images, checklists, or audio. Recording of voice notes is also available.
Syncing features: You can sync your notes to the cloud to avail of them whenever you want. 
Customization: This feature lets you change the color of your notes, choose a cover for your notes, and view your notes either in a grid view or in the landscape. 
MultiNotes- Reminder Notes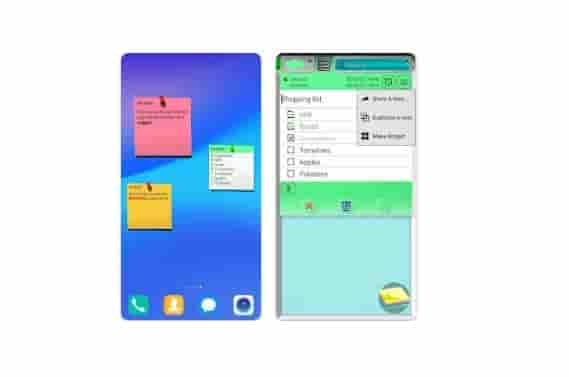 Like Google Keep and Zoho Notebook, MultiNotes is also a good and free alternative to a paid note-taking app. For students, it could be a good choice as it has many features that can help students to take their notes!
The app is capable to create notes with photos, audios, etc., and a reminder of events.
Key Features
You can add any number of media such as videos or photos to your notes.
You can add sound recordings to notes using a voice recorder.
Add or attach any files or documents to the note created by you and access them directly through the app, whenever you want.
The coloring option will let you color the important topics or sentences in the notes so that you can focus on them. 
Locking feature: using this feature, you can lock your desired notes so that the notes will only be seen by you! This feature helps you to keep your notes private and safe!
The newly added feature will let your note save on the drive for future reference.
You can share your notes via other apps such as email, messenger, etc.
Microsoft Onenote: Save Notes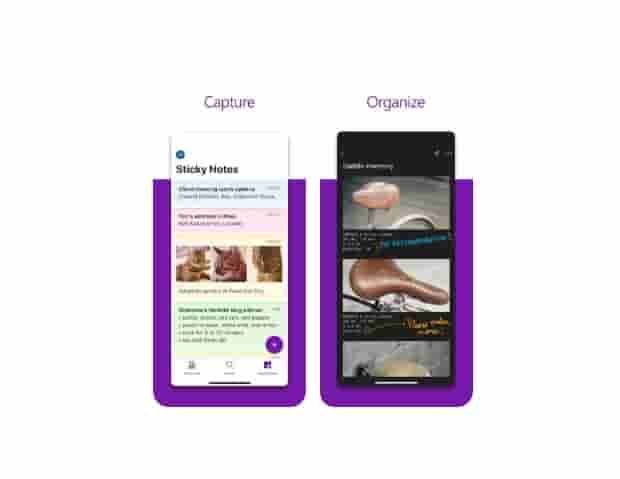 In the name of many popular free note-taking apps for students or anyone, Microsoft Onenote comes in priority. Like Google Keep, Zoho Notebook, or MultiNotes, this app has several amazing features that make this app lovable! 
As Microsoft is one of the biggest names among technology giants, OneNote has millions of users across the globe.
The app is designed to create an interactive collaboration among schools, teachers, and students. Teachers can place notes with school assignments and the students can avail those notes for their use! 
Key Features
Since Onenote is a part of the Office family, it performs excellently with other apps such as Excel or Word.
Take or create notes on your phone and sync them across all your devices. Syncing will let you access all your notes anytime, anywhere.
The share feature will help you in helping your friends by sharing your notes with them.
App has sufficient features for note-taking for free of cost! 
Notion- notes, docs, tasks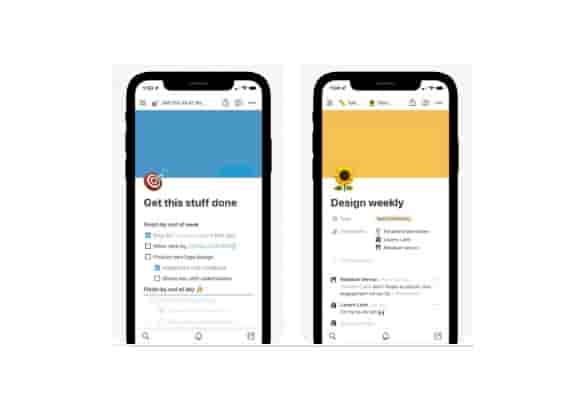 Like Google Keep, Zoho Notebook, MultiNotes, or Onenote, students could also select this app for note taking! 
The app has millions of installations having helpful features to create or take notes.
The app is free forever for personal use, however, plus plan or team plan which is perfect for companies includes payment. 
So as a student, you can use it for free!
Key Features
You will get unlimited storage: never hit the storage limit, and you can add as much content as you wish.
Can create a dashboard, website, doc, or system by just dragging and dropping.
Can add comments or you can mention your teammates.
Easily sync with browser, Mac, and Windows apps.
Evernote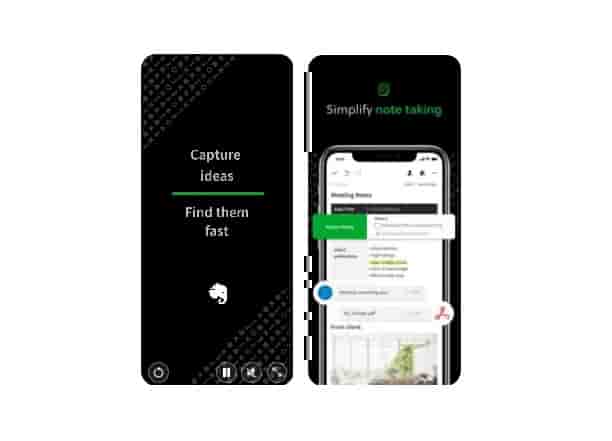 Not only students but teachers could also use this app and take notes, create to-do lists, and organize their notes in one place!
The app lets teachers create and organize notes for team meetings or committees. 
You can create notes by using photos, voice recordings, etc., and make them searchable whether you are at your school, at home, or on the go. 
Students or teachers love this app that's why the app has been downloaded millions of times.
Key Features 
Text notes created by the user can include embedded images, sketches, recordings, docs, PDFs, sketches, photos, audio, web clippings, and more, which makes notes more informative.
You can use the app to create a student portfolio, lesson planning, classroom management, etc.
60 MB upload limit with its free plan, if you want more space, you have to take their premium plans.
Scan documents using the camera of your device and organize paper documents, business cards, whiteboards, and handwritten notes.
Apple Notes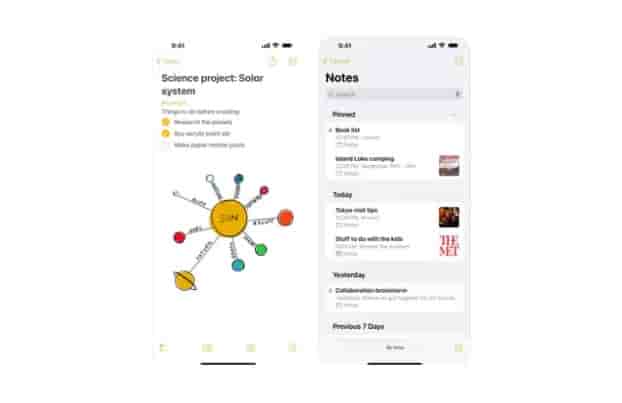 For students having iPhones or iPad, Apple Notes could be an attractive app. 
You can add photos, maps, web links, documents, and more to your notes. Also, a built-in document scanner helps to scan paper or documents.
You can mention your friends or teammates to notify them of important updates.
Organize your notes according to you, you can put your notes in folders, or sub-folders or you can organize the notes using other features.
Some features are available only in selected languages or regions, this is a drawback or you can say a limitation of the app. 
Bottom Lines
The list is not ended yet, there are several free note-taking apps for students. I only have tried to mention some popular or whom I used before or still use. 
Not only me, my son is in 9th standard and these apps are really helpful to him. 
I would really feel glad if this blog post has helped you!